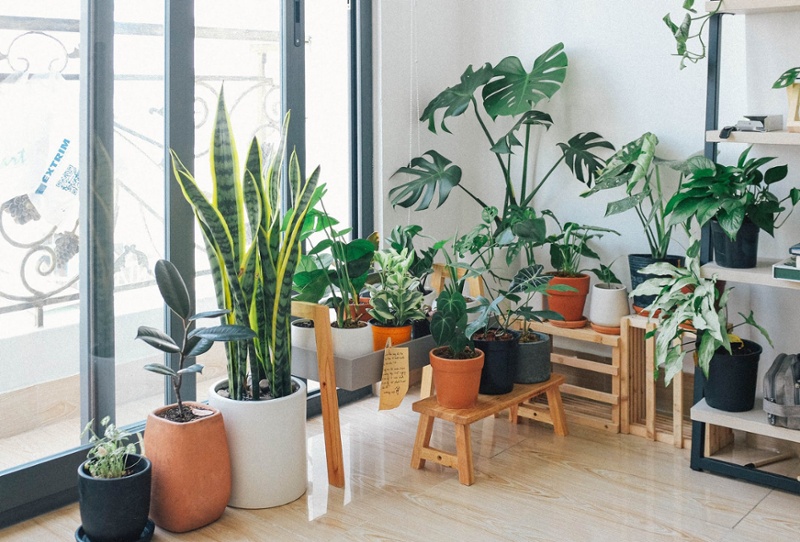 A home connected with the natural world just feels better. The four natural elements incorporated in a household setting create a peaceful and serene atmosphere.
What is biophilic design?
Biophilic design refers to designing the built environment in a way that connects us with our innate love of the natural world. Humans have evolved in nature and have only recently begun spending much of our time in the built environment. Biophilic design seeks to remedy this by incorporating natural elements into our living and workspaces. Biophilic design borrows forms and elements from nature to make us feel more at ease when we are indoors or surrounded by buildings.
What are the benefits of biophilic design?
The benefits of biophilic design are both mental and physiological. Studies have connected biophilic design with lowered blood pressure and heart rates, improved mental engagement and alertness, and positive impacts on attitude and overall mood.
The four elements
The ancient Greeks believed the universe was comprised of four natural elements:
Fire
Water
Earth
Air
While our understanding of the fabric of the universe has evolved since ancient times, this original list of natural elements provides a useful way to explore the idea of biophilic design.
When I'm talking about the integration of four main natural elements into our houses, I don't mean adding a few tropical prints on the walls or placing a bunch of houseplants (Don't get me wrong, house plants are definitely on the list). These little changes won't create an organically inspired interior design. I'm talking about inviting fire, water, earth, and wind inside your house with a full remodel plan for building a connection with nature in your home. I know you're thinking, "wind?" Rest assured, we don't want the inside of your house to be windy by any means. What we do want is clean and healthy air.
When you incorporate clean air, greenery, and other natural elements into your home design you start to subconsciously feel this human connection with nature. Which actually comes with many health benefits that we'll get into later.
Here is how you can bring the raw beauty of biophilic design elements into your space with a full renovation that features each natural element.
Just Add Water
There is nothing that brings more sense of balance and harmony than the soothing sound of falling water. You can infuse your outdoor or indoor space with the presence of water by adding a fountain, aquarium, or upgraded water fixtures. The outdoor fountain at the entrance of your house will become the first thing that you and your guests will see. It immediately gives your home a natural aesthetic vibe. Not to mention the sound of falling water is proven to reduce stress. This is why many people prefer sleeping to the sound of rain.
You can consider installing a water wall in your house. It will be the centerpiece of your living room that will impress your guests while improving the quality of air inside your home. Another indoor feature is the innovative wet room. Simply put, it's a waterproof space with waterproof surfaces (usually tiles) that incorporates at least 2 water elements, typically a shower and freestanding bathtub. There is no need for glass doors or shower curtains. In Seattle, such an open bath concept offers many opportunities for a whole new bathing experience.
Fiery Is the Way
You can easily infuse your household with warmth by adding a fireplace during your house remodel. This fire element can bring your house's natural side to a whole new level of cozy and organic. Make a fireplace the heart of your décor by featuring it as the main element in a living or dining room. Add a wooden mantle at the top to draw even more attention to the beautiful and warm focal point of the room. Something people also like to do is go with a stone fireplace mantel which is another great natural element alternative to wood.
Another way to lighten and warm up your house is by adding natural light. Strategic and thoughtful placement of windows in your remodel will help to maximize a natural light source. Thoughtful placement and layering of light sources inside your home can help to create a cozy environment, even when you don't have a natural light source.
Earthy Tones
You can spice up your house renovation by adding stone, wood, and greenery elements to your house design. This can be simply accomplished with terracotta pots or artwork featuring landscapes full of rich earth tones or can be more permanent elements such as a brick wall or stone countertops. The incorporation of majestic branches and planters is the ideal way to class up any room and include greenery in your household remodel. Add pebbles and rocks into your interior design, and finish it off with all-natural stained wood furniture pieces.
Your home's interiors are like personal ecosystems that you create. The environments you put yourself in can have such a big impact on your mental and physical health. Earthy environments for example, with a plant here or there, can reduce stress and benefit your quality of life.
From hardwood floors to bamboo feature walls, these are just two of many natural materials to include in your design. To improve your natural environment try incorporating wood, stone, and greenery in your decor as well as the design of your home.
An Airy Design
The transformation of your house to the modern Mother Nature harmonizing style isn't complete without the oozing fresh air and a pleasant atmosphere suitable for various weather conditions. Installing air purifiers will instantly rejuvenate you and create a pleasant climate in your house. Air purifiers help to produce healthy ions and replace the negative ions found in a closed space. Of course, you can't forget about installing a good heating and cooling system. Try adding floor-to-ceiling doors to the back of your home so you can open them up to the view of your yard and get a fresh breeze to filter out the stale indoor air. Health officials say that too much time inside without fresh air can have a negative impact on your health.
The benefits of biophilic interior design are the connections with nature that are built through higher air quality, the use of natural elements, and the visual benefits that humans get from living green.
Earth, Wind, Fire, and Water
With these tips, in no time, your house will welcome you with warm, natural, and organic interior design. If you are ready to remodel your home, please feel free to contact us. The CRD design team would be happy to discuss your project and how you might incorporate reclaimed wood, stone, and water features to your home.