Police investigating child's fall from south London apartment building
4 min read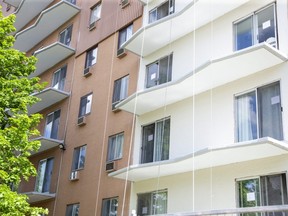 Article content
London police are investigating after a young child was injured in a fall at a south London apartment building.
Article content
It wasn't immediately clear whether the child fell from a balcony or window in the building at 301 Base Line Rd. W. on Thursday afternoon, and which floor they fell from.
London police said the child, whose age and gender wasn't released, was taken by paramedics to hospital and was in critical condition.
Emergency crews, including firefighters, went to the building at about 1:45 p.m.
Miranda Bothwell, a spokesperson for Middlesex-London EMS, said the child was stable while being transported. She said she couldn't confirm the child's age, but said they were young.
"It's unconfirmed how (high) the fall was. We were dispatched as a significant fall," Bothwell said. "We would have considered this a trauma-type fall."
Article content
Photos show that railings on many of the balconies in the 11-floor building have been removed as work is being done on the building's exterior.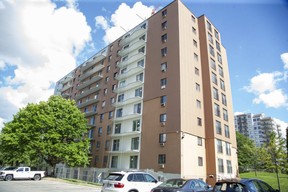 The building is part of the Garden Vista Apartments that are owned by a Guelph company called Skyline with multiple divisions. Officials at Skyline could not be reached Thursday afternoon.
On Sept. 7, 2021, Skyline purchased a portfolio of three properties in Brantford, Cambridge and London that included 301 Base Line Rd. W. and its sister building, 297 Base Line Rd. W. The two London buildings have 332 suites between them.
The purchase price for the entire portfolio was $166.25 million.
Thursday's fall is the second in less than nine months involving a child at a London apartment.
Article content
On Oct. 2 last year, a 22-month-old girl named Inayah fell to her death from the 20th-floor balcony of her family's unit at 400 Lyle St. in the city's east end.
Inayah's father said he was on the balcony with his daughter when she misplaced her foot, lost her balance and fell through a gap between the outer wall and guardrail.
The Ontario Building Code says guardrail gaps must be 10 centimetres or less, but the gap on that family's balcony was 14 centimetres, as measured by Free Press journalists last fall.
After the fall, the city ordered Medallion Corp., the building's owner, to fix the guardrails that it said could be hazardous to tenants. The company said modifications were made to some balconies that were inspected and approved by the city.
London police said after the tot's death they were investigating the fall but no updates have been provided since then.
Twitter.com/DanatLFPress